Will the Arts Come Marching In? Access to Arts Education in Post-Katrina New Orleans
A study by Sarah Woodward explores how students' access to arts education in New Orleans has evolved alongside the post-Katrina school reforms.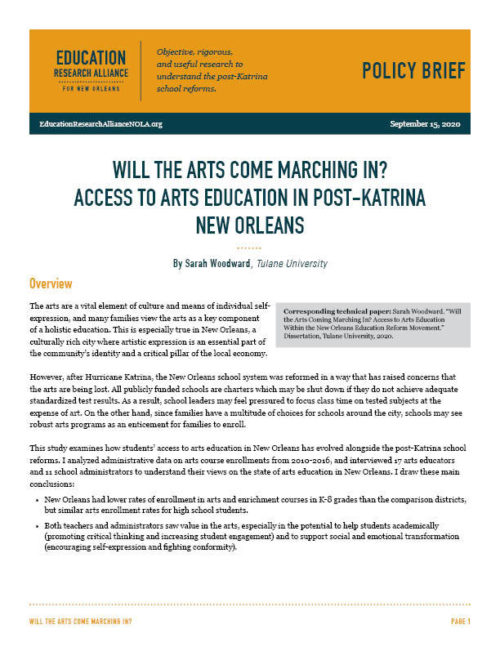 Will the Arts Come Marching In? Access to Arts Education in Post-Katrina New Orleans
Published
by Sarah Woodward
Many fam­i­lies view the arts as a key com­po­nent of a holis­tic edu­ca­tion. This is espe­cial­ly true in New Orleans, a cul­tur­al­ly rich city where artis­tic expres­sion is an essen­tial part of the community's iden­ti­ty and a crit­i­cal pil­lar of the local economy.
How­ev­er, after Hur­ri­cane Kat­ri­na, the New Orleans school sys­tem was reformed in a way that has raised con­cerns that the arts are being lost. All pub­licly fund­ed schools are char­ters which may be shut down if they do not achieve ade­quate stan­dard­ized test results. As a result, school lead­ers may feel pres­sured to focus class time on test­ed sub­jects at the expense of art. On the oth­er hand, since fam­i­lies have a mul­ti­tude of choic­es for schools around the city, schools may see robust arts pro­grams as an entice­ment for fam­i­lies to enroll.
Draw­ing on arts course enroll­ment data from 2010 to 2016, as well as in-depth inter­views with 28 art teach­ers and school admin­is­tra­tors, the study offers an exten­sive overview of the arts edu­ca­tion land­scape in New Orleans, includ­ing visu­al art, dance, the­ater, music, and media art. The key find­ings are:
New Orleans had low­er rates of enroll­ment in arts and enrich­ment cours­es in K‑

8

grades than the com­par­i­son dis­tricts, but sim­i­lar arts enroll­ment rates for high school students.
Both teach­ers and admin­is­tra­tors saw val­ue in the arts, espe­cial­ly in the poten­tial to help stu­dents aca­d­e­m­i­cal­ly (pro­mot­ing crit­i­cal think­ing and increas­ing stu­dent engage­ment) and to sup­port social and emo­tion­al trans­for­ma­tion (encour­ag­ing self-expres­sion and fight­ing conformity).
School admin­is­tra­tors val­ued arts edu­ca­tion as a way to recruit stu­dents and fam­i­lies. Some arts edu­ca­tors felt that this was mere­ly ​

"

mar­ket­ing" or ​

"

PR

" and that lead­ers empha­sized breadth over depth in arts course offerings.
Art teach­ers felt that intense test­ing pres­sure and a decen­tral­ized school sys­tem were bar­ri­ers to arts edu­ca­tion. They often felt under­mined in sched­ul­ing and admin­is­tra­tive deci­sions, saw few­er oppor­tu­ni­ties for pro­fes­sion­al devel­op­ment, and felt iso­lat­ed from the rest of the school and the wider arts edu­ca­tion community.
School lead­er­ship played a key role in sup­port­ing the arts. Arts offer­ings var­ied great­ly depend­ing on the school leader's per­son­al val­ues and belief in the impor­tance of arts education.
These results have impor­tant nation­al impli­ca­tions. New Orleans is held up as a mod­el for many urban school dis­tricts that are con­sid­er­ing choice-based mar­ket reforms such as char­ter schools. By pre­sent­ing the per­spec­tives of New Orleans arts edu­ca­tors and school lead­ers, this study sheds light on both the chal­lenges and the val­ue of pro­mot­ing arts edu­ca­tion with­in a sys­tem of school choice and aca­d­e­m­ic accountability.
More­over, these find­ings on the val­ue of arts edu­ca­tion gain new res­o­nance in the con­text of the COVID-19 pan­dem­ic. At a time when stu­dents are expe­ri­enc­ing rad­i­cal upheaval in their lives, the arts offer a way to help chil­dren express them­selves, process their emo­tions, and heal.
Click here to view the accom­pa­ny­ing tech­ni­cal report.
Related Publications
Increasing Access to Head Start Through Text Messages
Jun 23, 2020 | by Alica Gerry, Lindsay Bell Weixler, Jon Valant, Daphna Bassok, Justin B. Doromal
Voices of New Orleans Youth: What Do the City's Young People Think About Their Schools and Communities?
Jun 8, 2020 | by Lindsay Bell Weixler, Douglas N. Harris, Alica Gerry
Do Charter Schools Keep Their Best Teachers and Improve Quality? Retention and Rewards for Teachers in New Orleans
Mar 9, 2020 | by Nathan Barrett, Deven Carlson, Douglas N. Harris, Jane Arnold Lincove