Increasing Access to Head Start Through Text Messages
A new study by Alica Gerry, Lindsay Bell Weixler, Jon Valant, Daphna Bassok, and Justin B. Doromal finds a low-cost way to help more low-income families access Head Start programs.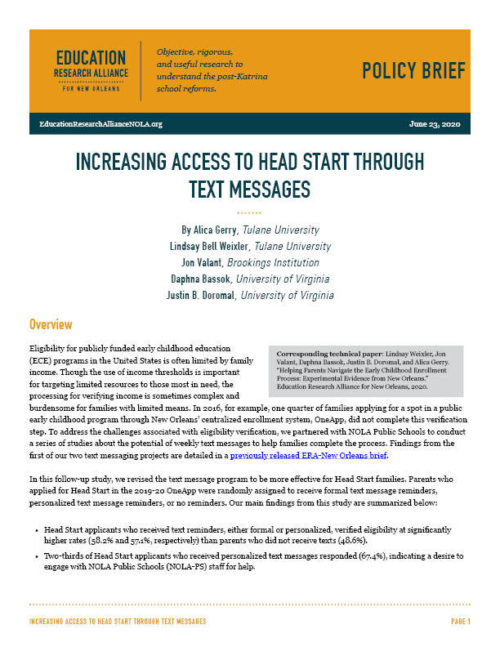 Increasing Access to Head Start Through Text Messages
Published
Eligibility for publicly funded early childhood education (ECE) programs in the United States is often limited by family income. Though the use of income thresholds is important for targeting limited resources to those most in need, the processing for verifying income is sometimes complex and burdensome for families with limited means. In 2016, for example, one quarter of families applying for a spot in a public early childhood program through New Orleans' centralized enrollment system, OneApp, did not complete this verification step.
To address the challenges associated with eligibility verification, we partnered with NOLA Public Schools to conduct a series of studies about the potential of weekly text messages to help families complete the process. Findings from the first of our two text messaging projects are detailed in a previously released ERA-New Orleans brief.
In this follow-up study, we revised the text message program to be more effective for Head Start families. Parents who applied for Head Start in the 2019-20 OneApp were randomly assigned to receive formal text message reminders, personalized text message reminders, or no reminders. Our main findings from this study are summarized below:
Head Start applicants who received text reminders, either formal or personalized, verified eligibility at significantly higher rates (58.2% and 57.1%, respectively) than parents who did not receive texts (48.6%).
Two-thirds of Head Start applicants who received personalized text messages responded (67.4%), indicating a desire to engage with

NOLA

Public Schools (

NOLA

-

PS

) staff for help.
Even with text message reminders, Head Start applicants still verified at significantly lower rates than applicants to school-based pre-K programs. Sixty-eight percent of school-based pre-K applicants receiving formal text reminders ultimately verified, compared with only 58% of Head Start applicants receiving those same communications.
This study provides compelling evidence that simple, low-cost text supports, paired with clear, accessible resources, can help families navigate the early childhood enrollment process and increase their likelihood of successfully enrolling their child in their desired seat.