Voices of New Orleans Youth: What Do the City's Young People Think About Their Schools and Communities?
A new study by Lindsay Bell Weixler, Douglas N. Harris, and Alica Gerry examines how students view their teachers, schools, and communities.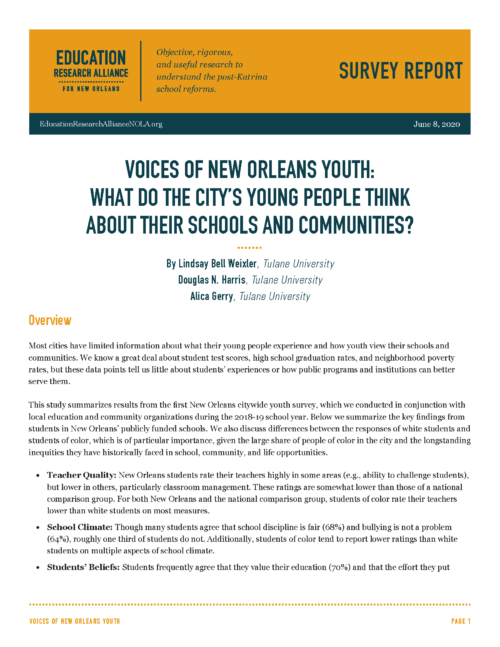 Voices of New Orleans Youth: What Do the City's Young People Think About Their Schools and Communities?
Published
by Lindsay Bell Weixler, Douglas N. Harris, Alica Gerry
Most cities have lim­it­ed infor­ma­tion about what their young peo­ple expe­ri­ence and how youth view their schools and com­mu­ni­ties. We know a great deal about stu­dent test scores, high school grad­u­a­tion rates, and neigh­bor­hood pover­ty rates, but these data points tell us lit­tle about stu­dents' expe­ri­ences or how pub­lic pro­grams and insti­tu­tions can bet­ter serve them. This study sum­ma­rizes results from the first New Orleans city­wide youth sur­vey, which we con­duct­ed in con­junc­tion with local edu­ca­tion and com­mu­ni­ty orga­ni­za­tions dur­ing the 2018 – 19 school year. Below, we sum­ma­rize the key find­ings from stu­dents in New Orleans' pub­licly fund­ed schools. We also dis­cuss dif­fer­ences between the respons­es of white stu­dents and stu­dents of col­or, which is of par­tic­u­lar impor­tance, giv­en the large share of peo­ple of col­or in the city and the long­stand­ing inequities they have his­tor­i­cal­ly faced in school, com­mu­ni­ty, and life oppor­tu­ni­ties. — Teacher Qual­i­ty: New Orleans stu­dents rate their teach­ers high­ly in some areas (e.g., abil­i­ty to chal­lenge stu­dents), but low­er in oth­ers, par­tic­u­lar­ly class­room man­age­ment. These rat­ings are some­what low­er than those of a nation­al com­par­i­son group. For both New Orleans and the nation­al com­par­i­son group, stu­dents of col­or rate their teach­ers low­er than white stu­dents on most mea­sures. — School Cli­mate: Though many stu­dents agree that school dis­ci­pline is fair (68%) and bul­ly­ing is not a prob­lem (64%), rough­ly one third of stu­dents do not. Addi­tion­al­ly, stu­dents of col­or tend to report low­er rat­ings than white stu­dents on mul­ti­ple aspects of school cli­mate. — Stu­dents' Beliefs: Stu­dents fre­quent­ly agree that they val­ue their edu­ca­tion (70%) and that the effort they put into their school­work pays off (71%). Con­sis­tent with nation­al trends, they have high ambi­tions, with 85% report­ing that they will pur­sue a col­lege degree. One of the few areas in which we find that schools' state-assigned let­ter grade relates to stu­dents' respons­es is in col­lege aspi­ra­tions: stu­dents in A and B schools are more like­ly to believe that they will go to col­lege, com­pared to stu­dents in low­er-rat­ed schools. — Trans­porta­tion: Most stu­dents (70%) report school com­mutes of less than 30 min­utes. — Neigh­bor­hoods: New Orleans youth fre­quent­ly report hav­ing social sup­port (67%) and feel­ing safe in their neigh­bor­hoods (72%). 44% par­tic­i­pate in ser­vice activ­i­ties in their com­mu­ni­ties, with stu­dents of col­or more like­ly to par­tic­i­pate than white stu­dents. The major­i­ty of white stu­dents report feel­ing safer in the pres­ence of police, while the major­i­ty of black stu­dents do not. Hav­ing input from the city's youth is invalu­able in under­stand­ing how they expe­ri­ence their schools and neigh­bor­hoods, and we are excit­ed to be able to high­light their voic­es. These results offer insight into how we, as a city, are serv­ing our chil­dren. In instances where these results sug­gest there are con­cerns in our schools and com­mu­ni­ties, we acknowl­edge that these are com­pli­cat­ed issues. There are many pos­si­ble con­tribut­ing fac­tors, as well as many avenues to address them. We hope the results from this sur­vey will prompt new con­ver­sa­tions and pro­vide a call to action to improve the lives of New Orleans' young people.
Related Publications
Do Charter Schools Keep Their Best Teachers and Improve Quality? Retention and Rewards for Teachers in New Orleans
Mar 9, 2020 | by Nathan Barrett, Deven Carlson, Douglas N. Harris, Jane Arnold Lincove
Can Text Messages Help Families Applying for Early Childhood Education Programs?
Apr 15, 2019 | by Lindsay Weixler, Jon Valant, Daphna Bassok, Justin B. Doromal, Alica Gerry
The Effects of the New Orleans School Reforms on Exclusionary Discipline Practices
Mar 18, 2019 | by Mónica Hernández