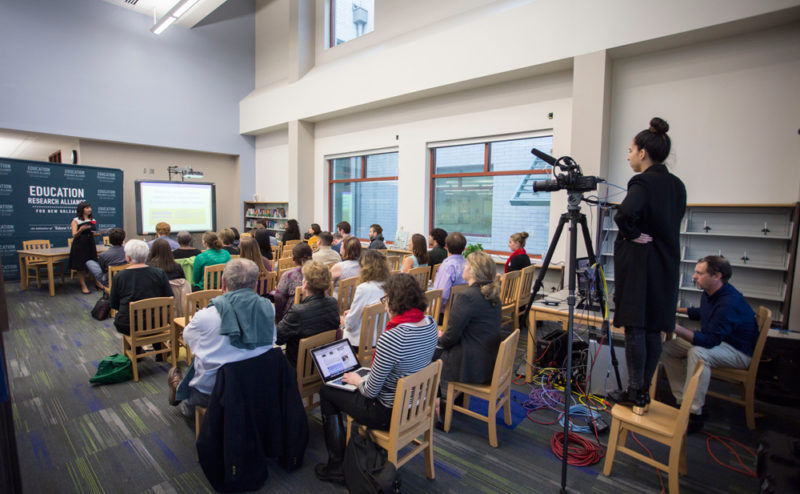 New Report Released: "How Do Schools Respond to State Policies on Teacher Evaluation?"
April 27, 2017
A new study from the Education Research Alliance for New Orleans at Tulane University examines how post-Katrina teacher evaluation reforms were implemented in New Orleans publicly funded schools.
Researchers interviewed teachers and administrators from eight local schools in 2015, as well as administrators from charter management organizations, to examine how teacher evaluation practices differ across the city.
The eight schools vary widely in their response to state teacher evaluation law. Only three of the schools responded to the state policy by adopting evaluation tools and practices to reflect on and improve instructional practice, while others either complied with the law in ways that did not encourage reflection or acted strategically to garner more positive evaluation results.
The study's authors found that responses were not related to whether the school was a charter or traditional public school. School evaluation practices were also unrelated to whether a school was part of the Recovery School District or overseen by the Orleans Parish School Board. However, their analysis did identify two factors that seemed to promote more learning-centered approaches to teacher evaluation.
"Schools that modified the state-recommended evaluation system were more likely to be reflective in their responses, suggesting that the flexibility to adapt evaluation policy to local school needs and contexts may increase organizational learning," said lead author Julie Marsh. "We also found that shared leadership and structured time for teacher collaboration were associated with more reflective responses, as they eased the burden on administrators to observe, evaluate, and support teachers and encouraged instruction-focused conversations."
This is important work given the ongoing national debate about the design of teacher and school accountability systems. "Supporters of statewide policies on teacher evaluation argue that having a more uniform approach to evaluation encourages genuine improvement for all teachers," commented ERA-New Orleans Director Douglas Harris, "but critics charge that individual school leaders can determine the best evaluation practices for their schools and that state interference leads to less productive observations. This study suggests that both sides make reasonable points."
The study was authored by Julie Marsh, Susan Bush-Mecenas, and Katharine Strunk from the University of Southern California, as well as Jane Arnold Lincove from the University of Maryland-Baltimore County and Alice Huguet from Northwestern University.
This paper is the second in a series of studies released by the Education Research Alliance for New Orleans that focuses on New Orleans teachers. The first study in the series explored the effects of Louisiana's teacher tenure reform. Forthcoming studies examine changes in teachers' perceptions of New Orleans schools from those who taught before and after Hurricane Katrina and how teachers in New Orleans publicly funded schools are paid.