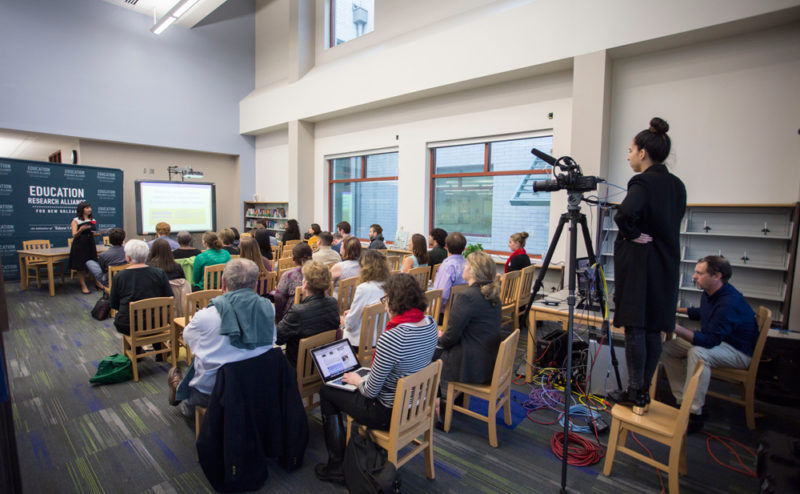 New Report Released: "Extreme Measures: When and How School Closures and Charter Takeovers Benefit Students"
October 17, 2016
As the national debate about how and when to close schools continues to grow, the Education Research Alliance for New Orleans released a new study that analyzes the impact of school closures and charter takeovers on standardized test scores, high school graduation rates, and college entry rates.
Authors Whitney Bross, Douglas N. Harris, and Lihan Liu will present their findings at the Tulane City Center (1725 Baronne St.) on Monday, October 17, at 5:30 p.m. CST. A live webcast of the event will be available.
The study examines school closures and charter takeovers in New Orleans and Baton Rouge from 2008 to 2014. "The results vary a lot across cities," according to Bross. "This tells us that the effects on student achievement depend on policy design and implementation."
The main conclusion of the study is that closures and takeovers are effective when students end up in higher quality schools. "That might seem obvious," Harris said, "but the public debate about these policies and most prior studies have generally not considered this. Sometimes education leaders intervene in schools that are more effective than they seem, and students end up moving to schools that are struggling even more."
"The impact on student outcomes in New Orleans high schools was positive," Liu noted, "but in Baton Rouge, these interventions reduced the high school graduation rate by 10 percentage points and reduced the college entry rate, as well." The study suggests that the negative effects in Baton Rouge are likely the result of students attending lower quality schools after the interventions.
The research indicates that policymakers should consider not only the impact on students in the schools when closures and takeovers happen, but also the effects on students who would have attended those schools in the future. "Looking at the impact on both groups of students, we found that the positive effects of these interventions in New Orleans account for 25% to 40% of the total effect that post-Katrina school reforms have had on student achievement," said Harris. "When school closures and charter takeovers are implemented well, there's a high probability that these interventions will be successful in improving student outcomes, but they can do damage otherwise."
The full report is available here, and a related report examining the charter authorization and renewal processes that often led to these closures and takeovers is also available.